On-Site Respirator Fit Testing
Fit test anytime, anywhere for instant OSHA compliance. Our on-site respirator fit testing teams bring the clinic to you and clear all employees at once ‒ providing the staff, testing, and technology for qualitative and/or quantitative fit testing! Once your workers complete their medical evaluation online, we're ready to fit test! Our mobile respirator fit testing solutions enable you to maintain compliance faster and more efficiently than ever. Need to fit test new hires after your on-site event? Send them to any of our 6,500+ clinics nationwide at any point throughout the year.
Let's Design Your Fit Test Program
NEW Fit Testing Software – Revolutionize the Way You Work
Mobile Health's Respirator Fit Testing Portal serves as a one-stop shop for all things respiratory compliance and as a central repository for all documents to streamline your compliance process. How?​
Central storage of fit test results, clearance certificates, and medical evaluations, accessible 24/7 365.​
Comprehensive view of your program's progress, detailing who's been tested, who's been cleared, and their results.​
Ability to take medical evaluations anytime, anywhere, from any device, with Mobile Health Physician review.
Mobile Health's Respirator Fit Testing Portal puts the power of compliance at your fingertips – giving you everything you need to know about your program, storing all documents and results. Recordkeeping has never been so easy.​ OSHA audit? Our Portal will make sure you're ready and fully compliant.
Mobile Health brings the Clinic to You
From quantitative to qualitative fit testing ─ no other provider has the mobility, technology, and nationwide reach of Mobile Health. Recently, we performed 39,000 fit tests in ONE single event. Our on-site teams bring the clinic right to your doorstep, fit testing 24 hours a day, 7 days a week to accommodate every shift and schedule. From online medical evaluations to on-site results, our respirator fit testing services are backed by our award-winning technology ─ real-time, HIPAA-compliant reporting in your Mobile Health portal to ensure you're always OSHA-ready.
Everything we do revolves around making sure you have complete peace of mind. Our partners rely on Mobile Health's 39 years of clinical excellence for all their compliance needs. We work closely with you to ensure your organization meets its pre-employment and annual respirator fit test requirements with ease. Mobile Health accounts for every detail, designing a solution that ensures your customized program causes no disruption to your employees' workday.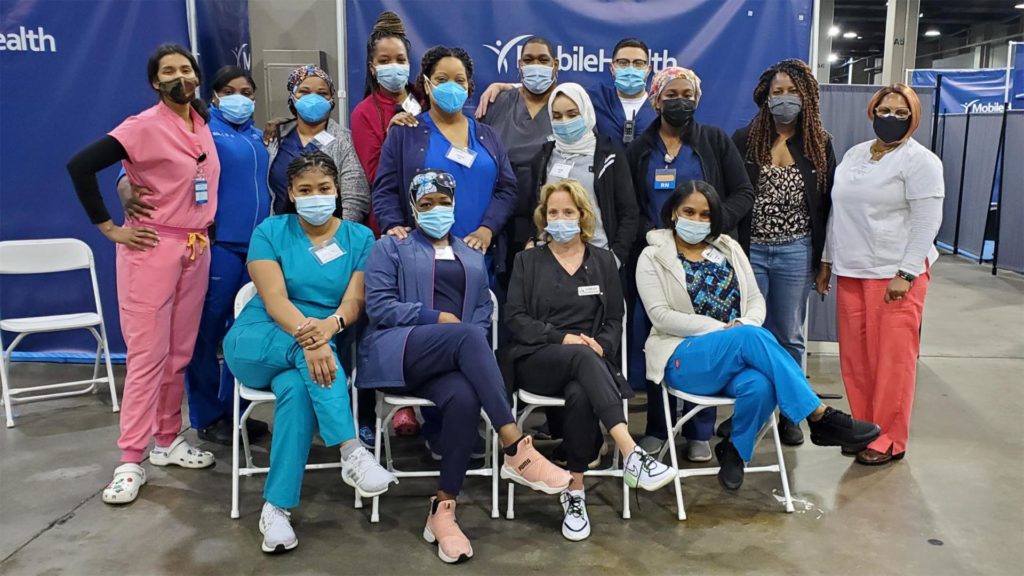 Our on-site teams come equipped with everything needed for a seamless testing event ─ bringing the equipment for quantitative or qualitative testing, and the staff and technology to support the program. During your event, our team will educate your staff on proper PPE utilization, sanitation protocols, storage, and best practices to ensure their safety. Your employees receive a link to complete their medical evaluation online, Mobile Health performs respirator fit testing on-site, and all results come to one easy-to-use portal.
On-Site Respirator Fit Testing FAQs
On-site respirator fit testing is a convenient way to fit test all of your employees at work, collectively, without requiring them to travel. With our mobile respirator fit testing teams, our fit testing experts come to you. We administer all aspects of your business's respirator fit testing ─ online medical evaluations, fit testing supplies, certifications, and on-site reporting technology. OSHA respiratory protection compliance doesn't get any easier!
From 10-100,000 employees, we will remain on-site as long as you need us. From one-day to one-month-long programs, we have the teams, testing, and technology to ensure every worker meets their annual respirator fit testing requirements with ease. 
All you need are your employees, their respirators, and a clean, private space for respirator fit testing ─ we do all the heavy lifting for a seamless testing event.