OSHA-Compliant Respirator Fit Testing
Flexible Solutions.
Comprehensive Compliance.
Mobile Health's respirator fit testing services go anywhere you need for effortless annual compliance. Our quantitative and qualitative fit testing solutions are paired with online medical evaluations for one-stop protection. Need help creating and implementing a respiratory protection program? Check out our Commonsense Approach to Respirator Fit Testing for practical advice from our OSHA Compliance Consultants on how to get your program up and running.
Let's Design Your Fit Test Program
NEW Fit Testing Software – Revolutionize the Way You Work
Mobile Health's Respirator Fit Testing Portal serves as a one-stop shop for all things respiratory compliance and as a central repository for all documents to streamline your compliance process. How?​
Central storage of fit test results, clearance certificates, and medical evaluations, accessible 24/7 365.​
Comprehensive view of your program's progress, detailing who's been tested, who's been cleared, and their results.​
Ability to take medical evaluations anytime, anywhere, from any device, with Mobile Health Physician review.
Mobile Health's Respirator Fit Testing Portal puts the power of compliance at your fingertips – giving you everything you need to know about your program, storing all documents and results. Recordkeeping has never been so easy.​ OSHA audit? Our Portal will make sure you're ready and fully compliant.
MOBILE HEALTH VS. THE COMPETITION
No other provider delivers out-of-the-box, flexible fit testing like we do. Our scalable qualitative and quantitative fit testing solutions enable us to save our clients over 6.4 MILLION in OSHA fines every quarter. Mobile Health can accommodate any business type and size: on-site fit testing at your location, our self-administered FIT KIT™, next-day appointments at our 6,500+ clinics, plus online medical evaluations paired with every solution.
Instant Compliance. Ongoing Support.
Along with our fit testing solutions, our respiratory protection program consultants equip you with tools and resources for compliance.

COMPREHENSIVE RESPIRATOR FIT TEST SOLUTIONS
Mobile Health is the industry leader in occupational health testing solutions with 39 years of clinical excellence. When it comes to meeting annual respirator fit test requirements, our partners always have peace of mind.

We've taken the needs and wants of our partners and designed solutions that they love. Whatever you need, whatever your concern, whatever obstacle you seem to face year after year for annual respirator fit testing compliance ─ we are here to listen and be your proactive problem solver.
If you choose to use our 6,500+ clinics, all you need is access to our award-winning Mobile Health Respirator Fit Testing Portal and Patient Portal. Your employees schedule an appointment at a clinic in their neighborhood and you get real-time results. If it's helpful for your employees to bypass a clinic appointment, we bring the clinic to you. All we need is a main point of contact, list of employees, and clean space for fit testing. If you want to conduct fit testing yourself, we give you every tool you need to get the job done with the Mobile Health FIT KIT™.
Our goal is to make every step of respirator fit testing effortless. We can fit test 24 hours a day, 7 days a week to accommodate every shift and schedule. From sending our on-site teams to your breakroom to scheduling next-day, individual appointments, we find the right solution to simplify OSHA compliance for your organization.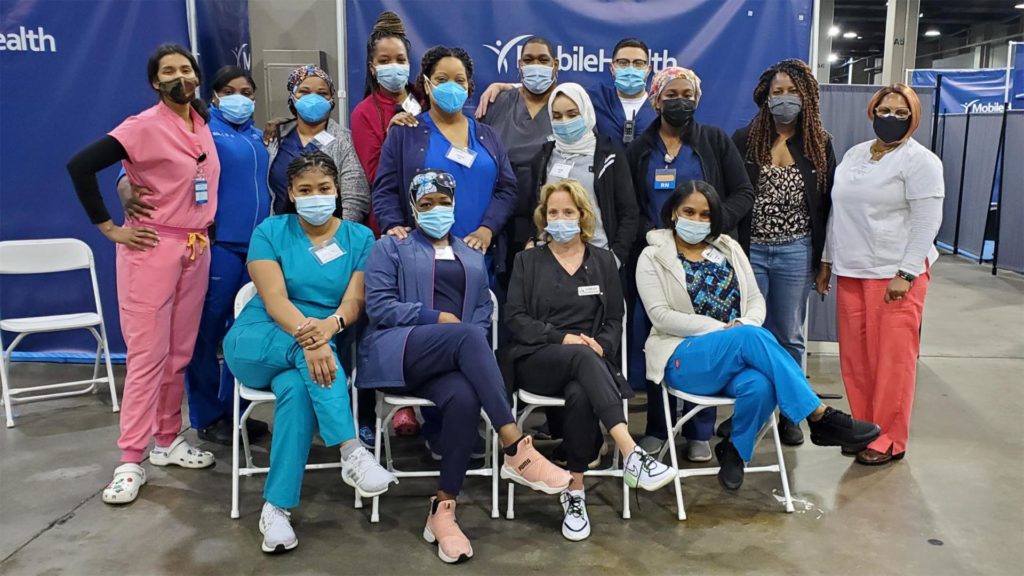 Our qualitative and quantitative respirator fit testing teams have performed thousands of tests on-site for healthcare providers and businesses of all sizes. 10-100,000 employees? We've got you covered. Our partners trust Mobile Health with their annual compliance needs because they know clinical excellence is in our DNA.
Our technology ensures that when we fit test your employees today, they will be ready to return to the field tomorrow. The Mobile Health portal provides effortless scheduling and instant access to medical evaluation and fit test results. We can integrate with your HRIS/ATS, sending results automatically from our platform to yours.
OSHA CLEARANCE.
Completed in Minutes.
Don't know where to start?
Before respirator fit testing, OSHA requires all employees to complete a medical evaluation. We provide medical evaluations online that can be completed in minutes!
These evaluations can be standalone or paired with any of our respirator fit testing solutions ─ online respirator fit test scheduling for 6,500+ clinics, mobile respirator fit testing teams, or we can send you our self-administered FIT KIT™ and train your employees to respirator fit test like pros!